As a professional historic preservationist and the owner of a circa 1860 home, Marty Selby knows how satisfying it is to preserve and maintain an old building. He also knows that antique structures present a unique set of challenges for an owner. When purchasing or restoring a historic building, you need an expert who knows the ins and outs of 19th and early 20th century construction techniques, and who can guide you toward a sensitive restoration that makes sense for modern living.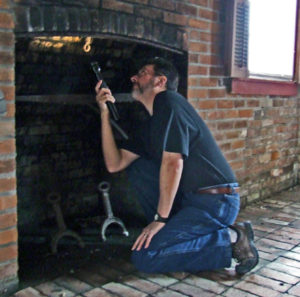 Marty is experienced in conducting thorough conditions assessments on historic buildings that range from small cabins, to multi-story homes and commercial buildings. He has a bachelor's degree in anthropology with graduate work in historical archaeology and cultural resources management, and advanced training in preservation construction techniques. Since 2007, he has directed the preservation efforts for his client, Friends of Arrow Rock, and was that organization's representative on a $750,000 preservation project on three buildings.
He underwent extensive training and holds an AHIT inspection certification, building upon his already considerable skills as a buildings inspector. He also is a licensed real estate agent in the state of Missouri.
Well-Preserved offers a top-to-bottom structural and conditions inspection of historic properties for potential buyers or for home owners who want a better understanding of the state of their property. In addition, we can provide a bridge to your general contractor on your historic preservation project, to make sure proper practices are followed and that the end result is a success.
Use our Contact Us page to schedule a property inspection or to request a free initial assessment of your preservation project.